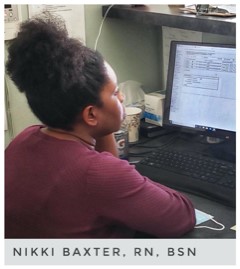 As cases of Covid 19 peak in our area, and resources and coordination with government agencies become strained, we are all concerned that the most vulnerable might fall through the cracks.
Each day McClendon Center teams download timely client medical records. These invaluable reports allow staff to have up to the minute information on medical care – including Covid 19 testing and results. Teams are then able to prioritize responses, quickly connecting with the most urgent cases.
Recently, we discovered patients that tested positive for Covid 19 and didn't have an appropriate place to recuperate were moved to a local hotel. McClendon Center teams reached out to those clients and found that in some cases food and medical care was inconsistent. Immediately team mangers visited the location and assessed the situation. While there was some food available it was difficult for sick clients to eat. For many liquids were the only option. Quickly soups and plenty of water and liquids were brought to the hotel by our committed staff. Sometimes the best medicine is a familiar and friendly face that truly cares. Teams continue to monitor the location closely and will provide whatever is needed.
We cannot always anticipate individual needs but we always respond with the highest level of compassion and care. And we know that matters to you. Thank you for your support.
-Dennis
PS . Thank you for continuing to care and stay interested in our critical work. If you are able, please make a donation
https://mcclendoncenter.org/wp-content/uploads/2020/05/nikki.jpg
269
240
aciciora@mcclendoncenter.org
https://mcclendoncenter.org/wp-content/uploads/2020/06/mcclendon-center-logo.svg
aciciora@mcclendoncenter.org
2020-04-14 20:52:50
2020-05-26 20:58:17
Clients Falling Through the Cracks?