Get to Know Our New CEO: Tony Boswell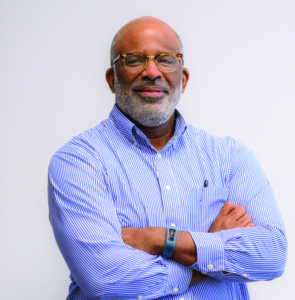 As you may have heard, Tony brings a long track record of working with communities in the healthcare, human services, education, legal, government and nonprofit sectors to the Center. We sat down with Tony to learn more about his background and vision for McClendon Center, and discovered some fun facts along the way.
###
Q: What inspired you to pursue a career in behavioral health?
My passion has always been working with and for the benefit of people. The best way I know how to do that is through relationship building. As it relates to behavioral health, I saw an opportunity to enhance the effectiveness of organizations in the sector by leveraging partnerships and rallying coalitions around shared goals. I also love working with health care practitioners and social workers; it takes a special kind of person to do that job. I never trained to do that work, but I feel a kinship with those who do, and I'm grateful to call them my colleagues and friends.
Q: What attracted you to this role with McClendon Center?
McClendon Center has a strong reputation for putting clients first. That's important for any community-based organization, but it's especially crucial for organizations who primarily work with underserved populations. McClendon understands the intrinsic value of each individual and shapes its programs around this philosophy. Additionally, I saw an opportunity to expand programs for people with substance use disorders and youth. I felt I could use my talent for coalition building to expand the center's reach and meet critically unmet needs in the community.
Q: How has your life experience shaped your leadership style?
I began my career in law, witnessing how a heavy top-down leadership style damaged the organization's culture and created stress, antagonism, and fear. This experience taught me how not to lead, especially if your goal is to get people on the same team. By adopting a team-first leadership style, it's possible to create compassionate, mission-driven teams that get things done for the community, resulting in a win-win situation for everyone.
Q: What are some of your key priorities as you begin this new role?
My top priorities are: 1) improving McClendon's culture in a manner that embraces, recognizes and rewards the amazing people that do this important work; 2) expanding the scope and scale of McClendon's services; and 3) increasing investment in our mission. People of color, who are our primary consumers, have been disproportionately affected by COVID-19 and the ongoing racial trauma stemming from incidents of police brutality across the country. Rising to these demands will take a collaborative approach that both takes stock of our community's assets and clearly identifies its needs.
Q: What is something McClendon Center supporters might be surprised to learn about you?
I'm a tennis fanatic, I love to play the game. I'm also a pescatarian and have been for many years. A whole-fried red snapper is my food nirvana.
Q: Is there anything else you would like to share with our community as you begin your new role?
I couldn't be happier or more proud to be in this role, and I can't wait to meet everyone who's part of our community.
https://mcclendoncenter.org/wp-content/uploads/2021/07/McClendon-Center_Tony_Boswell.png
1200
1200
McClendon Center
https://mcclendoncenter.org/wp-content/uploads/2021/12/logo-mcclendon-horizontal.png
McClendon Center
2021-07-06 17:39:43
2021-12-03 19:36:26
Get to Know Our New CEO: Tony Boswell