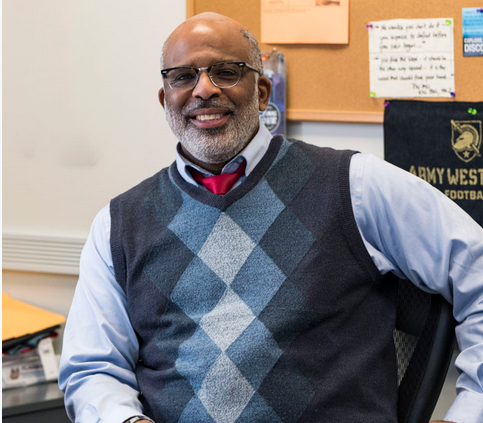 McClendon Center Appoints Anthony O. Boswell as President and Chief Executive Officer
A proven, compassionate leader and advocate, Boswell will lead McClendon Center's efforts to support and empower District of Columbia residents living with mental illness
WASHINGTON — McClendon Center, a nonprofit mental health services provider that has served the District's residents for more than 40 years, and its Board of Directors are pleased to announce the appointment of Anthony O. Boswell as its new President and Chief Executive Officer, effective June 1, 2021.
Boswell is a proven and compassionate leader and advocate for the marginalized with a three-decade track record of successfully working with and to the benefit of underserved communities in the healthcare, human services, education, legal, government, and nonprofit sectors.
He is McClendon Center's first President and CEO and the first person of color to lead the organization since its founding in 1980. Boswell succeeds longtime Executive Director Dennis Hobb, who retired earlier this year following a 17-year tenure at the Center. He will build upon a strong foundation established during Hobb's tenure, which has seen the Center recognized on multiple occasions by the Department of Behavioral Health as the city's highest-rated provider.
"We are excited for Tony to continue and build upon McClendon's long history of providing high-quality, compassionate, and innovative care for those in our community living with mental illness," said Steve Lucas, Chair of McClendon Center's Board of Directors. "Tony is a highly respected leader and coalition builder who the Board believes can lead McClendon into a bold new era while maintaining our reputation as a top-rated, client-centered agency. With Tony as our new CEO, we can meet the ever-evolving needs and challenges facing the District."
Throughout his career, whether in a legal, compliance, or business leadership role, Boswell's unique ability to build and sustain critical partnerships with a diverse set of stakeholders has proven to be a difference-maker.
Boswell began his career as a healthcare attorney before serving in various leadership roles spanning corporate and government service, and the international and not-for-profit business sectors. He brings extensive experience advocating for vulnerable populations, including youth living in poverty and marginalized people with behavioral health needs.
Most recently, Boswell served as Executive Director for a national mental health provider overseeing providers in Springfield/Worcester, Massachusetts, New Orleans, Louisiana, and Washington, D.C.
"I am tremendously humbled and honored to join the McClendon Center and carry on its rich history of providing life-changing care and support to the greater Washington community," said Boswell. "We are in the midst of a mental and behavioral health crisis exacerbated by COVID-19. We need to continue to ensure the most vulnerable among us get the help they need. I believe strongly in the Center's people and purpose, and I am confident in its ability to meet the current challenges and help our communities emerge from this period stronger, safer, and more confident than ever before."
Drawing upon a successful national track record and deep local expertise, Boswell is well positioned to advance the Center's vision of growing into the region's preeminent provider of behavioral and mental health services.
Since 2019, Boswell has served as Chair of the District of Columbia Behavioral Health Association's Board of Directors. He has been a member of the DCBHA Board for each of the past three years, previously serving as Board Treasurer from 2018-2019.
"On behalf of the DCBHA, we could not be any more pleased to learn about Tony's appointment as the new President and CEO of the McClendon Center," remarked Mark LeVota, Executive Director of the District of Columbia Behavioral Health Association. "As the current President of the Board of Directors of the Association, Tony is well-known to our membership and his many strengths as a leader have been on full display amid the many challenges we have all faced over this past year. The Center has been a member of the Association since its earliest days, and we are grateful to see it take this important step in its next chapter of growth."
Among his many aims, Boswell will seek to spearhead a systematic expansion of McClendon's services and impact to additional populations, such as children and youth, as well as those with substance use challenges.
"In our ever-changing healthcare environment, it is essential that we always continue to innovate and strive to find new ways of effectively caring for those in our community," added Boswell. "As a highly-respected industry leader, I believe the Center has a tremendous opportunity to build upon its client-first culture, expand its footprint, and deliver solutions to the significant community health need across our region. I am grateful to join such a dedicated staff and look forward to getting started."
Boswell earned his Juris Doctor degree from the University of Pennsylvania School of Law and holds a Master of Education degree from the University of North Carolina at Chapel Hill, as well as his bachelor's degree from Stony Brook University.  Boswell and his wife Kay-Ann have two children.
About McClendon Center
Founded in 1980, McClendon Center is an independent, 501(c)(3) nonprofit, community-based health provider in the heart of Washington, DC. For over 40 years, it has provided critical programs and services to District residents with mental and behavioral health challenges, empowering them to live more independently and enjoy an increased quality of life. McClendon Center is certified as both a Core Services Agency and a provider of Rehabilitation/Day Services. It has been accredited by the Joint Commission since 1999, a prestigious credential not shared by any other behavioral health provider in the District. McClendon Center provided life-changing services and care to more than 5,200 DC residents who turned to it for help in 2020.
https://mcclendoncenter.org/wp-content/uploads/2021/07/Tony-desk-mcclendon-center.png
611
483
McClendon Center
https://mcclendoncenter.org/wp-content/uploads/2021/12/logo-mcclendon-horizontal.png
McClendon Center
2021-06-02 14:21:09
2021-12-03 15:18:10
McClendon Center Appoints Anthony O. Boswell as President and Chief Executive Officer