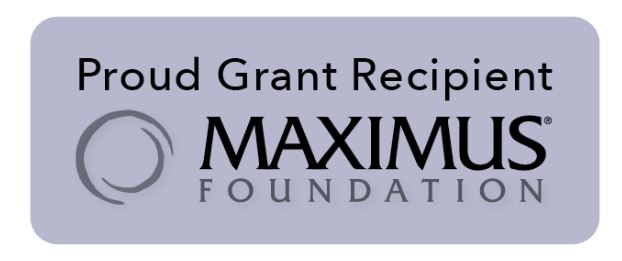 We are very proud to be recognized for our work by the MAXIMUS Foundation with a $5,000 grant in support of our programs and services. This grant will benefit the more than 3,500 DC men and women who come to McClendon Center for support toward achieving their highest degree of mental health recovery and independence.
"I am honored to present McClendon Center with this MAXIMUS Foundation grant for their amazing work to help those who are underserved in their community," said John Boyer, MAXIMUS Foundation Chairman. "Through its innovative solutions, McClendon Center empowers both individuals and families, making an important impact on many people's lives. On behalf of the MAXIMUS Foundation, I would like to thank the McClendon Center staff for everything they do, and look forward to seeing more of their work in the future as they continue to serve their community."
A majority of our clients represent the most vulnerable population in our community – with most living below the DC poverty line and with inadequate or no access to primary health care. Our constituency is predominantly African American (88%) and 43% are 55 or older. In addition to their mental illness, many of our clients have at least one co-morbid medical condition such as hypertension, diabetes, hepatitis C, HIV/AIDS and asthma.  Stressful living conditions (such as homelessness or high-crime areas), food insecurity, poor physical health, and social isolation compound the risks of hospitalization, homelessness, incarceration, and shorter life expectancy.
While our primary source of revenue comes from Medicaid reimbursement for clinical services, other crucial but "medically non-essential" assistance and programs must be covered by other sources of funding. Therefore, this grant from MAXIMUS Foundation is invaluable toward helping to defray the costs of our support services.
THANK YOU MAXIMUS FOUNDATION for supporting our mission!
————————
About MAXIMUS: Since 1975, MAXIMUS has operated under its founding mission of Helping Government Serve the People®, enabling citizens around the globe to successfully engage with their governments at all levels and across a variety of health and human services programs. MAXIMUS delivers innovative business process management and technology solutions that contribute to improved outcomes for citizens and higher levels of productivity, accuracy, accountability and efficiency of government-sponsored programs. For more information, visit www.maximus.com.
About the MAXIMUS Foundation: As the philanthropic arm of MAXIMUS, the Foundation extends the mission of the Company by identifying and awarding grants to partners with specialized expertise to deliver results within the same populations and communities served by the public programs the Company operates. The MAXIMUS Foundation is completely funded by MAXIMUS and its employees, and provides grants to local community organizations with programs and projects in the areas of child and youth development, health and community development.
https://mcclendoncenter.org/wp-content/uploads/2020/02/Capture2.jpg
261
622
actualize
https://mcclendoncenter.org/wp-content/uploads/2020/06/mcclendon-center-logo.svg
actualize
2018-06-06 12:04:21
2020-02-10 15:56:41
McClendon Center Receives $5,000 MAXIMUS Foundation Grant