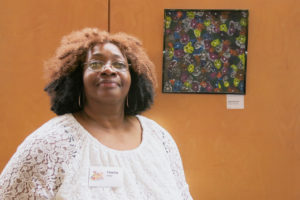 Tonya O'Neal loves to create art. And when she learned more about our Art of Transformation event, a client art show and reception, she jumped at the opportunity to submit her work. At our last event on April 26, Tonya was our guest speaker and below is a copy of her speech.
Good evening ladies and gentlemen,
Thank you coming out and participating in our annual art show and auction. My name is Tonya O'Neal and I started services at the McClendon Center 3 years ago. I was just receiving regular services such as therapy, medication and I was linked to a support worker. She is no longer with the McClendon Center, but she was a very integral part of my recovery process. She was good at her job and you could tell that she loved what she did. I was fortunate enough to have her for 2 years. During that time she introduced me to the day program. I was reluctant at first, but I was desperate. I had too much idle time and I was isolating. I kept falling backwards, so I gave it a try. She took me to the program and showed me the different groups. I met different clients and staff members. Everyone seemed very friendly. I sat in on a group and realized I had found a home.
I had tried other Mental Health core agencies, but never stayed. None of them offered the same benefits as the McClendon Center. The icing on the cake was when I was told that there was an art class. It was not a class with just a few coloring pages and crayons, it was a studio. I was introduced to Nick, the art therapist and a great facilitator and instructor. I took this class twice a week. Art gives me a Chance [sic] to get away. Out of my head. When I create art, it relaxes me. It silences the chaos, the noise and everything disturbing goes away. I am enveloped in the art. All the racing thoughts, anxiety, and emotions are all put into my work. I imagine being on a secluded beach, where it is quiet and serene. Or I'm in another country searching and finding beautiful treasures and artifacts. I enjoy all genres of art. Such as painting, sketching and creating pots from mere magazine strips.
Through the years at the McClendon Center, I have progressed in getting the necessary things for mental health. A positive environment, a productive staff and a plethora of coping skills. Being part of the McClendon Center family has showed me how to deal with life on life's term. It has given me hope. Even when I stumble, even when I fall. People like Shara, Hannah, Megan, Nick, Mr. Woody, Peta-Gaye and, of course Dennis and my peers, help me to get back on solid ground. Let's not forget about the people behind the scenes. The people whose names may not be mentioned as often, or may not be recognized as much as others. Without them, the program would not function as efficiently as it does now. People such as the support workers, the psychologists, therapists, medical assistants, nurses, and receptionists. I cannot and never will forget Rachelle Mobley. She has a beautiful spirit that emanates wherever she goes. Because of people like her, I came to McClendon Center for help and ended up helping others, as they have helped me. Without this program I don't know where I would be.
In conclusion, the best thing about creating art is that I can take something that may not look like much and turn it into something beautiful for the beholder. The picture of my night bloomers remind me of how something beautiful and bright can come out of the darkness. It gives me a chance to show my creativity and to be proud of things that I have created. Nick [editor's note: Nick Denson was McClendon Center's art therapist, who left recently to join the Peace Corps] is a very big part of this transformation and he will be missed.
So, when bidding on our artwork, please give the very best that you can. Remember it's for a good cause. It's to help the doors of the McClendon Center open, and to give people like me a place to belong, a place to fit in, a home.
Thank you.