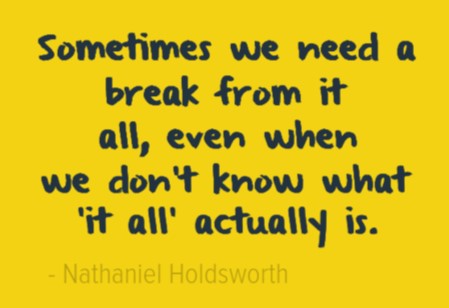 One of the more important roles Human Resources plays in supporting employees is creating a stress free process for seeking time off to address mental health needs.
With limited sick time and high demands at work many organizations don't make it easy or comfortable for employees to take time off. Sure, many organizations offer health insurance that provides mental health coverage, but with limited evening and weekend appointments available in the mental health community working professionals are stuck between a rock and a hard place. Taking time off from work, the very work that may be contributing to the decline in your mental state, can add an immeasurable amount of stress and anxiety.
Don't lose hope! In addition to employment laws in place to provide job protection for medical leave, here are some tips to help navigate taking time off from work to see a mental health professional.
1.    Family Medical Leave Act, better known as FMLA.
The FMLA was enacted to provide job protection to employees who needed time off of work to manage serious health conditions for themselves, and/or family members for whom they were responsible.
Employees are not expected to know whether or not FMLA applies to their organization, but  they should. The FMLA applies to worksites that have 50 or more employees within 75 miles. Even if an organization qualifies to adhere to the FMLA employees must have worked for the organization for at least 12 months and at least 1,250 hours in the last 12 months to qualify for leave under this federal law. The one caveat to qualifying under the terms listed would be that many states like the District of Columbia have their own FMLA policy that organizations must adhere to in lieu of the federal guidelines outlined here.
A serious health condition defined: 1) inpatient medical care; 2) pregnancy or prenatal care; 3) a health condition lasting three consecutive days coupled with on-going treatment by a healthcare provider; 4) a chronic, serious condition such as asthma, diabetes or epilepsy for which the person is under supervision by a healthcare provider; 5) any period of absence for multiple treatments such as chemotherapy or kidney dialysis; or 6) a permanent long-term condition for which treatment may not be effective.
Depending on the severity of your mental health needs item # 3 on the list above would be the most appropriate for addressing time off to see a mental health professional. The best way to determine if you qualify is to sit down with someone in the human resources department. Be prepared to provide supporting medical documentation during the process, which is required by law.
2. Do your homework. 
It's up to you to find the best fit when it comes to selecting a mental health professional. Sometimes the right fit starts with schedule availability.
Most health insurance companies offer the ability to search online for in network providers based on availability, such as weekend appointments. You can also call your health insurance provider and ask the representative to conduct a search on your behalf. The results are usually emailed or faxed to you by the representative.
Another option is to go out of network. Plans that have an out of network option will allow you to see any mental health professional, in most cases. Yes, it is at a higher upfront financial cost, but the long terms results will be worth it.
3. Sick and Vacation Leave. 
If you don't qualify for the FMLA you should consider using any accrued leave. Following your organization's policies regarding scheduling the leave can help ease the stress and anxiety around taking time off from work.
Always remember that nothing gets done without you, when it concerns you. Taking care of your mental health needs is no different than a trip to the chiropractor for an adjustment or your annual health check-up. Keeping you healthy and well is a team effort.
Saná Rasul, ACC, PHR, SHRM-CP, Director of Human Resources, McClendon Center. In addition to leading the human resource functions at the Center, Ms. Rasul runs a for-profit association, HR Girlfriends, which supports the professional and personal development of female HR practitioners
https://mcclendoncenter.org/wp-content/uploads/2020/02/Need-a-Break.jpg
308
449
actualize
https://mcclendoncenter.org/wp-content/uploads/2020/06/mcclendon-center-logo.svg
actualize
2017-06-28 14:06:10
2020-02-10 15:57:39
Taking Time Off for Mental Health: Tips from HR