Answering the Call: Addressing Barriers to Vaccine Access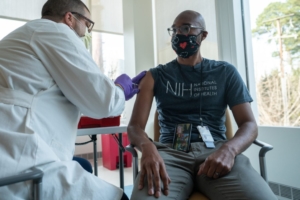 At McClendon Center, the outreach team, led by Clinical Director Caitlin Apo, draws inspiration from an informal motto:
"We do everything we can to make healthcare accessible to everyone, regardless of their means."
Leaving no one behind means that our team must navigate hard-to-find, non-traditional, and, at times, dangerous environments to provide critical support to the most vulnerable within our communities.
Providing access to reliable health information and connecting underserved community members with quality health care are no small tasks. COVID-19 has introduced a new danger into an environment already plagued by poverty, homelessness, and inequality — misinformation.
Apo and the Center's eight-member outreach team, however, have once again proved up to the task. This spring, they were awarded a contract that has challenged them to reduce vaccine hesitancy and address the significant disparities in vaccine access across the D.C. region.
Since May, these efforts have included knocking on doors, listening to people's concerns, debunking myths, and setting up transportation for the socially vulnerable, homebound and other hard to reach populations.
To date, the Center's new vaccination outreach initiative has reached and produced referrals for more than 2,500 individuals.
"Our team works tirelessly to ensure the most vulnerable populations are reached along with everyone else. It's what we do. We have been putting clients first for more than 40 years."
LET'S TRANSFORM LIVES, TOGETHER
COVID-19 has hit the most vulnerable in our community the hardest. During these challenging times, please help McClendon Center to ensure that everyone in our community has access to quality care when and where they need it.