Celebrate the Art of Transformation
Join us to experience the ways that creative self-expression transforms lives at our signature event, the Art of Transformation, returning in-person this November for the first time in four years.
Over 100 pieces of client artwork will be on sale with proceeds directly supporting McClendon Center's work to improve the health and well-being of DC's most vulnerable residents — those who are economically disadvantaged and struggling with mental health issues.
Join us at this year's Art of Transformation for an evening of art, inspiration, and community. You can:
Support healing through art
Be inspired by our client artists
Peruse and purchase their original pieces
Mix and mingle with friends and staff
Learn more about our critical work & help raise funds to support our clients

Art of Transformation 2023
Thursday, November 2 | 6-8 pm
2020K St NW, Suite 1100
Washington, DC
Early Bird tickets are now available until October 1st.
Check Out This Sneak Peak at the Artwork
Here's a sneak peek at some of the larger pieces of client artwork we'll be unveiling when our showcase event, the Art of Transformation, returns. The pieces you see below are not currently for sale, but stay tuned for more details!
Different
By William Daniels
18″ x 24″
Rainbow Jungle
By Edith Smith
18″ x 24″
I Rose
By Rydell Davis
9″ x 12″
Faces of Recovery
By Black Team
36″ x 48″
Client Artwork Currently for Sale
We're pleased to make client artwork available for purchase prior to our event via the McClendon Center Art Shop. Art can be picked up at the event on November 2 or at our Day Program + Administrative Offices on New York Ave.
Don't hesitate to drop us a line at development@mcclendoncenter.org if you have any questions.
Fire Woman
By Patrice Williams
3″ x 3″
$10

Crossroads
By Byron Briscoe
8″ x 10″
$20
Abstract Butterfly
By Sheena Rowell
8″ x 10″
$20
Community Champion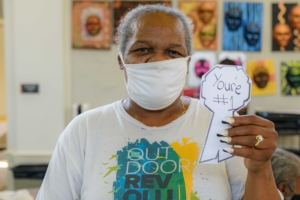 Community Champion Sponsorship – $5,000
Two prominent on-site banners featuring sponsor's name and logo

Opportunity to make short remarks at the event

Recognition by the event emcee during opening and closing remarks

Prominent acknowledgment in all AoT promotional materials

Website

Event program and signage

Email marketing & Press release

Dedicated social media posts

Table or promotional banners


10 complimentary tickets to event

Opportunity to provide promotional items to be distributed to attendees

Recognition in pre- and post-event McClendon Center communications