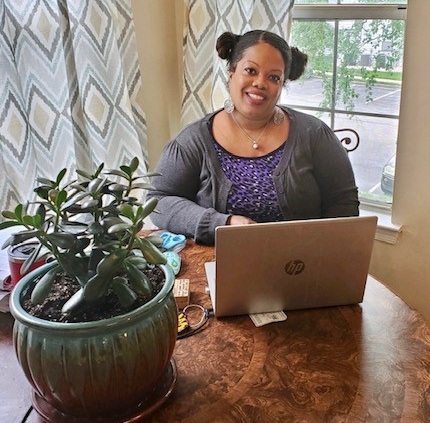 As we are settling into new ways of doing things we are also finding new ways to serve our clients. Due to the hard work of Aisha Shabazz, McClendon Center's Day Program Manager, we have started a "Virtual Day Program".  It took a great deal of effort and organizing for Aisha and her staff but they have created something wonderful. Human connection is so important to our clients and having a dedicated place to go every day and interact with others was important to so many of them. Offering that connection on Zoom can now help to bridge the gap of loneliness. Even more amazing, we have expanded our reach – now serving not only many current MCC clients but now 20 other DC residents. And we see that number growing as we expand the program. Aisha gives a more detailed explanation of how she, her staff, and the clients are benefiting:
Most of our day program clients depend very heavily on the day program.  For many of them it is the only place that they have friends and participate in meaningful activities.  When we realized that the day program would have to close temporarily due to COVID-19, we were very worried about how it would affect the clients.
During the first weeks of the Quarantine, Day Program staff stayed connected to the clients by calling them several times a week to check on their wellbeing (did they have enough food and medication, offering solutions to symptom management and keeping them company).  Although the clients appreciated these calls, after a while all they wanted to know was "when will we be able to come back?" It was very frustrating and actually heartbreaking not to have an answer.
One day a staff member called 6 clients at the same time.  This call lasted for about an hour.  Not only did they miss coming to the day program, they also really missed each other!  Friends are such an essential part of life. The Department of Behavioral Health (DBH) authorized Virtual Day Services at the end of April.  On Monday, May 4th the McClendon Center offered it's first Virtual Day Programming through Zoom. We do our best to create programing that is very similar to what clients receive at the ACTUAL Day Program. We are currently offering Virtual Day Programming at 4 different sites (a Community Residence Facility (CRF), 2 transitional houses and a group home) through Zoom Meetings. Some of the groups offered are: Art Therapy (we ship art supplies to the sites), Movement/Dance Therapy, Educational Games, Recovery Based Groups and Mental Health Awareness.   Groups are offered at 9:00, 10:00 and 11:00. The clients participate in 3 groups daily and then receive lunch, which is delivered by our lunch provider, Catholic Charities.   We also offer groups twice a week through Google Duo for our clients that live independently. So far on average we have been providing Day Services to 20 clients a day. We are planning on adding more sites and expanding our Google Duo groups.This has been challenging at times, because it requires a lot of "technology juggling," but the feedback from CRF directors, House Managers and clients has been overwhelmingly positive.  The clients report loving seeing their group facilitators and are enjoying groups.  The House managers report that it has been easier to get the clients to "social distance" by remaining in the house, because they aren't leaving out of boredom. This has been a HUGE team effort that has been very much worth it.
We also want to give an update on our Art of Transformation. Originally we had hoped to move it to November. However, that seems unrealistic given all the uncertainty. We have always put client and staff safety at the top of our list – and we need to keep our friends, family, and supporters safe too. We will have a celebration in person, we just aren't sure when. We will keep you up to date on planning. We are also working on ways to stay connected in the meantime – so stay tuned for that!
-Dennis
https://mcclendoncenter.org/wp-content/uploads/2020/05/Aisha.jpg
640
430
aciciora@mcclendoncenter.org
https://mcclendoncenter.org/wp-content/uploads/2020/06/mcclendon-center-logo.svg
aciciora@mcclendoncenter.org
2020-05-19 21:12:22
2020-05-27 14:51:07
Could You Use Some Good News Today?