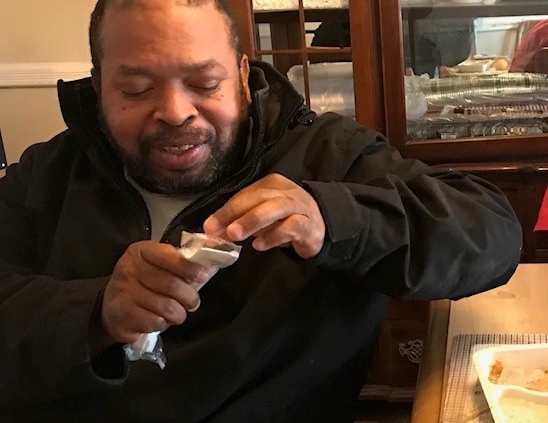 This year we are thankful we are still serving our clients despite Covid19 difficulties. We are thankful for our resourceful staff. And we are incredibly grateful to our donors that have stood by us this year.
Many of our clients are food insecure. As part of our virtual Day Program we always provide lunch delivery. However this year we made sure they were able to enjoy a special thanksgiving meal on Wednesday. Over lunch an important discussion began; was pumpkin or sweet potato pie was better? In the end, sweet potato came out the winner. If you are looking for ways to support MCC and important programs like this, we have included a few creative ideas below.
If you're shopping virtually this year you may be visiting Amazon. Amazon Smile is a program where they give a small percentage to the charity of your choice. Simply sign up on Amazon and MCC will benefit! For details click here: Amazon Smile
Giving Tuesday was created in 2012 as a simple idea: a day that encourages people to do good. Over the years, it has grown into a global movement that inspires hundreds of millions of people to give, collaborate, and celebrate generosity. If you're going to give on Giving Tuesday consider giving locally – to MCC.   Whether it's a large gift or small gift anything that's meaningful to you is meaningful to us.
If a donation isn't an option right now you can support us by joining us online on December 9th at 6:30 pm for a free virtual event. Click for more info and signup Art of Appreciation
Did you know the new CARES (Coronavirus Aid, Relief, and Economic Security) Act allows taxpayers to take a charitable deduction of up to $300 ($600 for married couples) for those who take the standard deduction? For those who do itemize their deductions, the new law allows for cash contributions to qualified charities such as McClendon Center to be deducted up to 100% of your adjusted gross income for the 2020 calendar year.
https://mcclendoncenter.org/wp-content/uploads/2020/11/TG-Paul.jpg
640
548
aciciora@mcclendoncenter.org
https://mcclendoncenter.org/wp-content/uploads/2020/06/mcclendon-center-logo.svg
aciciora@mcclendoncenter.org
2020-11-26 12:54:52
2020-11-26 12:59:13
More Than One Way to Give