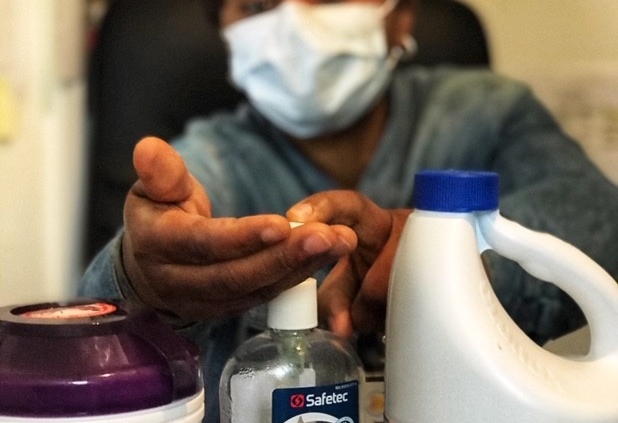 We are going out into the community more often, slowly increasing our in person contact with our clients. We continue to follow all health and safety guidelines and offer gloves, masks and barriers for cars for transporting clients when necessary. We know that as the pandemic is prolonged our work is needed more than ever. Loneliness and isolation are difficult for everyone – but for our clients it is more difficult, and in some cases can even be life threatening. For some we are their only lifeline, and there is no substitute for person to person contact. So with safety in mind, we continue to meet client's needs.
We also look for the good things that come from adversity. As we have been reporting the Day Program has been expanding since it went online in May. Out of necessity we formed several daily programs virtually – many in local group homes. As the word spread so did our outreach. But something wonderful and unexpected happened too. There were residents, which for various reason​s, would not have been able to attend the in person Day Program in the past. For some, mobility due to illness or age would have been an obstacle. But that is no longer the case. This week we served two clients that are both receiving chemotherapy treatments for cancer. They are weakened by their treatments but able to come and spend time in our virtual Day Program and enjoy the community and care provided there. In the past they would not have been able to get in a van and travel to our in person Day Program. It simply would have been too much for them physically. The need to maintain this virtual service is clear. We will advocate for the ability to hold these groups in the future – even after we are able to return in person. Offering both in person and virtual Day Programs will allow us to serve multiple clients in the way most effective for each of them. Meeting the need often means meeting people where they are –both figuratively and literally.
Thank you for your continued support – and for being part of the McClendon Center community. We are grateful you are!
https://mcclendoncenter.org/wp-content/uploads/2020/09/cleaners-v3.jpg
640
618
aciciora@mcclendoncenter.org
https://mcclendoncenter.org/wp-content/uploads/2020/06/mcclendon-center-logo.svg
aciciora@mcclendoncenter.org
2020-09-08 16:32:40
2020-09-08 16:34:15
Silver Linings During Covid19