The Healing Power of Plants: Horticulture Therapy at McClendon Center
After two-years, the impact of horticulture therapy at McClendon Center keeps growing and growing!
"Horticultural Therapy has been a wonderful addition to the McClendon Center's "bouquet of services." The clients love the group so much. They have learned a lot about plants and themselves. We are so happy to be in partnership with Plants and Blooms ReImagined." 
– Aisha Shabazz, Program Director McClendon Center Day
For almost 2 years, McClendon Center has been working with Kaifa Anderson-Hall of Plants and Blooms ReImagined to offer a weekly horticulture therapy program for their Day Program's 100+ mental and behavioral health constituents.
A typical horticulture therapy session at McClendon Center involves caring for recurring plants, new plant introductions, sharing observations and personal anecdotes, and providing space to reflect on the shared needs for both plants and people to thrive.
Here's what some of our Horticulture Therapy Program participants have to say:
Tyrone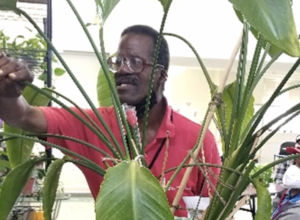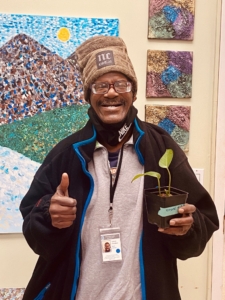 I love taking care of all plants, the big ones and the little ones, and especially love playing music for them because I know it makes them happy and makes them grow.
My plant (pothos) at home is growing so big and it makes me very peaceful.  
William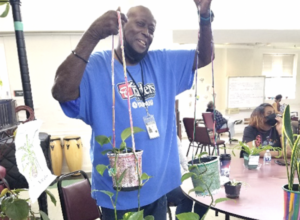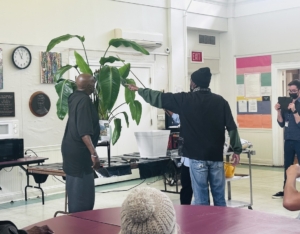 I've been dubbed the propagation master! I had a few outdoor plants, but never would I imagine that I'd fall in love with indoor plants.
This program and the Plant Therapy group is a constant reminder to be open to new things.
Patrice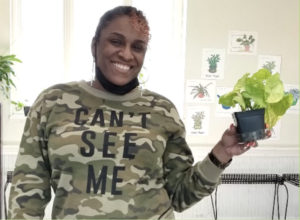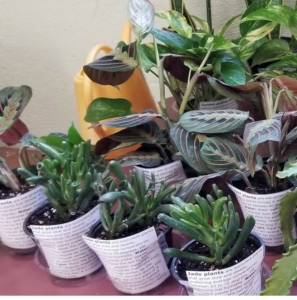 I wasn't for it at all and I made it known with much attitude in the initial sessions. Now look at me – all smiles!
Six plants and counting, it's all about my mental wellness now!
Sam & Gary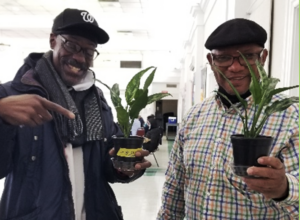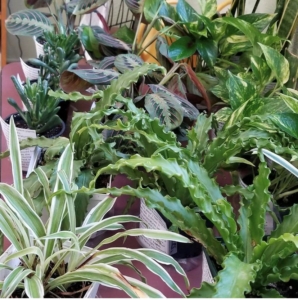 I can't have enough of them. They bring me so much joy! – Gary
When the group started the same week I was to move into my new apartment, I knew it was confirmation that I was supposed to be moving plants in with me too. Now I'm the proud caretaker of a windowsill filled with propagated plants thanks to the Plant Therapy group. – Sam
A big thank you to our Horticulture Therapist Kaifa Anderson-Hall! You can read more about Kaifa and her approach here.