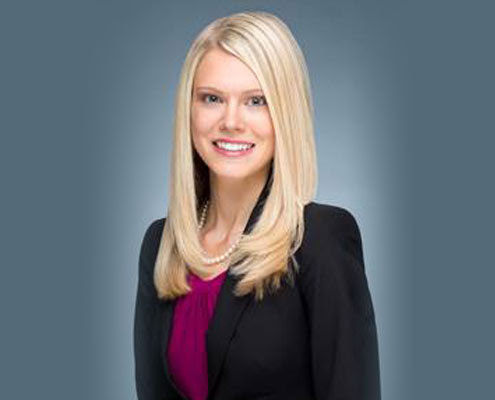 In the midst of the constant change and uncertainty that everyone is experiencing McClendon Center is doing what it does best – focusing on caring for our clients. Many of those efforts usually mean direct care, but recently, the District announced nearly $20 million in budget cuts to the Department of Behavioral health (DBH) that threaten our ability to care for our underserved communities. Our committed and knowledgeable Board of Directors used their voices to advocate for McClendon Center. Here are some excerpts from their recent testimony given to the Council of the District of Columbia Committee on Health for the Budget Oversight Hearing.
Caitlin Gritt Vice Chair, McClendon Center Board of Directors Founding Partner, Bisceglie & Gritt, PLLC offers her insights: "For 40 years, McClendon Center has provided critical programs and services to DC's most vulnerable residents — those diagnosed with severe mental illness — empowering them to live more independently and improve their quality of life.  Our organization is certified as both a Core Services Agency and a provider of Rehabilitation/Day Services.  Last year, we served 4,500 people.  91% of our clients are African-American.  28% of them are homeless or staying in shelters.  One-third of them are 55 years of age or older.
I volunteered to join McClendon Center's Board of Directors because I care deeply about the wellbeing of my neighbors and the health of my community.  On behalf of those we serve — many of whom cannot speak for themselves — I am asking for your assistance in eliminating the proposed DBH budget cut, so that McClendon Center and other agencies throughout the city can serve as many residents as possible, helping them to live safer, healthier, more independent lives."
David Harris is Co-Founder of Song Dog Spirits and a McClendon Center Board Member since 2014. David writes: "The era of a global pandemic is exactly the wrong time to balance the city's budget on the backs of the city's most vulnerable residents. This is not just a matter of helping support the behavioral health of the District's long-term residents in dire need of those services; such a budgetary change can also jeopardize their housing, their Medicaid eligibility and essential healthcare as well.
I am appealing to your sense of justice and respectfully asking you and the Council to ensure that these cuts do not transpire, and that we protect and – if anything – we add to the funds allocated to helping our most vulnerable neighbors."
Divya Moolchandani offers her voice to the conversation: "As a healthcare professional, I assure you the downstream implications of these service caps and any associated reduction in other services is tremendous. By cutting this significant amount designated for community support, the District's disenfranchised residents, and our clients, will subsequently lose housing, Medicaid eligibility, job opportunities, and access to food and other services.
My job today, as a Board member, is to represent the voice of the Center's clients and staff, so that they achieve their highest degree of mental health recovery and independence. Your job, as a Council member, is to represent the voices of the community, so all can have equal access to the foundational support they need to try to live happy, healthy, lives. We both have an obligation and moral directive to do our jobs. The $20 million budget cut from service caps on community support and assertive community treatment, coupled with adding medical necessity requirements, will harm our community, especially those that need the most help. Reject these cuts."
Their full statements are posted on our Here. I encourage you to read them in their entirety.
We are encouraged and optimistic as we move forward knowing we have the strong support of our dedicated Board of Directors advocating for our deserving clients. And as you've always known McClendon Center's work is much more than the services we provide.
-Dennis
PS If you would like to make a donation to you can on our website McClendon Center Give Your essential support is always appreciated! Thank you.
https://mcclendoncenter.org/wp-content/uploads/2020/06/2020-07-21.jpg
400
495
aciciora@mcclendoncenter.org
https://mcclendoncenter.org/wp-content/uploads/2020/06/mcclendon-center-logo.svg
aciciora@mcclendoncenter.org
2020-06-16 14:07:43
2020-07-21 12:15:46
Stand Up for Our Clients