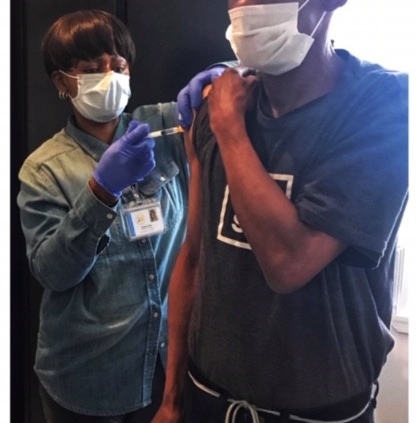 Things are changing around the District due to Covid19 and some of the more exciting changes have to do with increasing our partnerships.  The Department of Behavioral Health was just awarded a federal grant of which McClendon Center is a part.  Our job is to utilize peer specialists to work with transitions of care at the city's Comprehensive Psychiatric Emergency Program, and to establish a "warm" line for behavioral health clients who just need to talk.  McClendon Center has a long history of promoting recovery by employing individuals who are also experiencing living with mental illness.  This program will build on that, as well as on our ability to partner with at least one of the peer operated centers in the District.  We are taking on the challenge, just like you'd except us to. These are our neighbors in need and we will continue to be part of the solution.
And we know you want to help too. You're a part of McClendon Center because you care about your community and the people in it, especially those who are struggling. Recently we have seen amazing gestures of generosity. Some of you have donated your $1,200 stimulus checks to McClendon Center. We are extremely grateful for your generous support. However, a gift of any size is a way you can help, and it will make a difference right now.
Two weeks ago we became aware of clients potentially falling through the cracks in the Coivd19 response from the District. Homeless clients that tested positive for the virus were moved to a hotel in NW to recuperate. Unfortunately, they were not receiving sufficient medical attention or appropriate meals. Our first step was to take care of these clients and then follow-up with the right agencies and advocate for our clients. Caitlin Apo, Clinical Director for the McClendon Center, was interviewed about the situation in an article for the Washington City Paper which outlines the shortfall. Here is a link to the article if you would like to read more
Washington City Paper
Note: in the article it states we are closed – which is incorrect. We have reduced our hours but have not closed the clinic's doors completely.
-Dennis
PS If you are thinking about donating your stimulus check or making a donation of any size thank you for doing what you can to support our community, it makes a difference!
https://mcclendoncenter.org/wp-content/uploads/2020/05/shot.jpg
640
418
aciciora@mcclendoncenter.org
https://mcclendoncenter.org/wp-content/uploads/2020/06/mcclendon-center-logo.svg
aciciora@mcclendoncenter.org
2020-04-28 21:01:55
2020-05-26 21:05:46
Tired of CAN'T? Here's What You CAN Do Today!