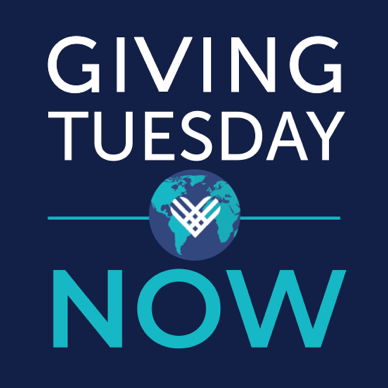 You may be familiar with Giving Tuesday – a global giving event that happens each year right after Thanksgiving. It is normally a time of abundance and gratitude. Giving Tuesday provides a day to give back and say thanks to charities and nonprofits of your choosing. Due to Covid19 and the extraordinary strain it has put on businesses of all types, the non-profit community decided to add a special day this year. Today, May 5th is Giving Tuesday Now. And McClendon Center is taking part. If you are considering giving today we'd love you to think of us. McClendon Center has already received a generous pledge of $2,500 to get our day of giving off to a terrific start. We are very grateful!
Ray Bethel, Office Coordinator at MCC, models one of Ms. Phillip's handmade masks
We are also happy to report that we can now provide washable reusable masks for clients and staff. Claudelia Davis, LICSW, a Clinical Manager at McClendon Center, told us about her neighbor Helen Phillips. Ms. Phillip is a local seamstress and instructor – and has taught Claudelia's daughter to sew. Like many of us during the pandemic, Ms. Phillips has switched her business focus from teaching to making one-of-a-kind masks that are functional and fashionable. And McClendon Center asked her to make some for us. We're pleased to have a member of our community provide these beautiful masks that are made with love and handmade care.
If you can contribute on Giving Tuesday Now there are many ways that your donation can help.
Here are some:
A $10 Gift will provide handmade washable masks to a staff member and a client.
A $25 Gift will buy valuable telephone minutes to add to clients' phones ensuring we stay connected
A $50 Gift will purchase a gift card for food and toiletries to keep our clients healthy and safe
Above all we hope you are staying safe and healthy.  Thank you to the many of you that have already given and sent encouraging messages. In the coming months we all need to support one another. Already we're making plans to carefully re-open and to slowly return to business when it's safe to do so. Things will be different however McClendon Center will continue to do what we have done for 40 years – care and advocate for our those who are struggling with mental health issues. There will be more updates to come.
-Dennis
PS If you make a donation of any size thank you for thinking of McClendon Center!
https://mcclendoncenter.org/wp-content/uploads/2020/05/Logo-GTN2.png
388
388
aciciora@mcclendoncenter.org
https://mcclendoncenter.org/wp-content/uploads/2020/06/mcclendon-center-logo.svg
aciciora@mcclendoncenter.org
2020-05-05 21:06:24
2020-05-27 14:45:53
Giving Tuesday Now – A Special Day of Giving