McClendon Center Announces Leadership Transition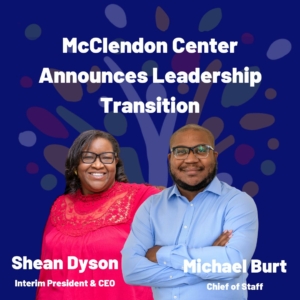 WASHINGTON — The McClendon Center's Board of Directors announced that it recently completed a new senior leadership transition. Sheandinita Dyson has been appointed as McClendon Center's President and CEO on an interim basis, while Michael Burt has been promoted to the role of Senior Director and Chief of Staff.

In Sheandinita and Michael, the Board has placed the Center in trusted and experienced hands. Together, this dynamic duo has ascended the leadership ranks and grown the Center together since joining more than a decade ago in 2008 and 2009, respectively.

Sheandinita is a highly-engaged, respected, and effective people leader who understands the Center, its mission, and operations inside and out. She has extensive compliance and management experience across the behavioral healthcare industry.

Sheandinita joined the McClendon Center in February 2008, beginning her tenure as a Community Support Specialist, before quickly assuming a supervisory role as Team Leader. Prior to her previous and most recent role as Senior Director and Chief of Staff, her management portfolio has included compliance and training, as well as a six-month period as the Center's interim Executive Director (January-July 2021).

Michael joined the Center as a Team Leader in March 2009, before assuming a dual role with additional responsibilities as its Director of Quality Improvement in April 2014. Among the many highlights of his tenure, Michael has played an instrumental role in leading McClendon Center through its Joint Commission accreditation processes in 2017 and 2021.

As Senior Director and Chief of Staff, Michael is now responsible for strengthening existing services, leading key strategic initiatives, and supporting Sheandinita in the development and day-to-day management of organizational operations.

About McClendon Center

Founded in 1980, McClendon Center is an independent, 501(c)(3) nonprofit, community-based health provider in the heart of Washington, DC. For over 40 years, it has provided critical programs and services to District residents with mental and behavioral health challenges, empowering them to live more independently and enjoy an increased quality of life. McClendon Center is certified as both a Core Services Agency and a provider of Rehabilitation/Day Services. It has been accredited by the Joint Commission since 1999, a prestigious credential not shared by any other behavioral health provider in the District.

Learn more about the McClendon Center in its most recent annual report.
https://mcclendoncenter.org/wp-content/uploads/2022/07/McClendon-Center-Leadership-Transition-SDyson-MBurt.jpg
1080
1080
McClendon Center
https://mcclendoncenter.org/wp-content/uploads/2021/12/logo-mcclendon-horizontal.png
McClendon Center
2022-07-19 18:43:51
2022-07-19 19:13:57
McClendon Center Announces Leadership Transition