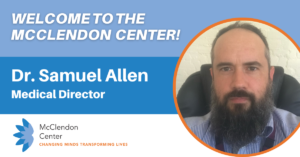 McClendon Center, a nonprofit mental health services provider that has served the District's residents for over 40 years, is pleased to announce that Dr. Samuel Allen has been appointed as its new Medical Director.
Dr. Allen is a proven clinician who brings significant experience advocating for vulnerable and at-risk populations in Washington, DC, Egypt, and his native England.
"Dr. Allen is a thoughtful, compassionate, and experienced leader," said Tony Boswell, McClendon Center President and CEO. "He understands that recovery starts with the whole person and is best achieved when done in partnership, meeting the individual's goals ⁠— a philosophy and approach that is integral to our work. We are thrilled to welcome him to the McClendon Center family and look forward to him helping us to build upon our longstanding tradition of excellent care."
Dr. Allen joins McClendon Center after completing his psychiatry residency at Georgetown University Hospital, where he served as Chief Resident. He attended the University of Sussex for his undergraduate studies and received his medical degree from St. George's, University of London.
As Medical Director, Dr. Allen is responsible for the psychiatric health and wellness of McClendon Center's clients, the Center's assessment and prescribing processes, and is the ultimate clinical decision maker for the agency. He also provides direct services for the Center's clients, supervises all psychiatry staff members, and is the agency's administrative representative for psychiatry.
Welcome Dr. Allen!