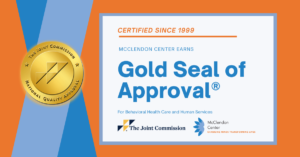 McClendon Center is thrilled to announce that it has earned The Joint Commission's Gold Seal of Approval® for Behavioral Health Care and Human Services Accreditation by demonstrating continuous compliance with the highest national standards for safety and quality of care.
The Gold Seal is a symbol of quality that reflects a health care organization's commitment to providing safe and effective behavioral health care.
"As a private accreditor, The Joint Commission surveys health care organizations to protect the public by identifying deficiencies in care and working with those organizations to correct them as quickly and sustainably as possible," says Mark Pelletier, RN, MS, chief operating officer, Accreditation and Certification Operations, and chief nursing executive, The Joint Commission. "We commend McClendon Center for its continuous quality improvement efforts in patient safety and quality of care."
"This achievement is a testament to our staff who every day bring passion, talent, and heart to the work we do to improve the health and quality of life for residents of the District," said Tony Boswell, McClendon Center's President and CEO. "The accreditation process ensures the Center's programs and services are putting our clients first, and are as responsive as possible to the needs of our community – even amid the most difficult of years. I'd like to especially recognize the leadership of Michael Burt, our Director of Quality Improvement, and Caitlin Apo, our Clinical Director, each who played pivotal roles in this great accomplishment."
The Center has been accredited by the Joint Commission since 1999, a prestigious credential not shared by any other behavioral health provider in the District of Columbia.
For more information, please visit The Joint Commission website