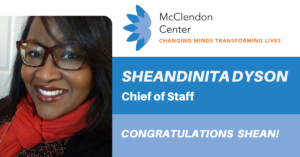 WASHINGTON — The McClendon Center is pleased to announce that Sheandinita Dyson, who has served as the organization's Director of Compliance and Training for the last four-plus years, has been named Chief of Staff.
"Shean brings tremendous heart, passion, and experience to the chief of staff role," said Tony Boswell, McClendon Center President and CEO. "She is a highly engaged, effective, and respected leader who understands our organization and our work inside out. I am confident and excited for the Center to continue to benefit greatly from her wisdom, insight, and thoughtful, strategic approach. There is no one we'd rather have in this role."
Shean is an experienced compliance leader with a demonstrated history of leadership in the behavioral healthcare industry. She has been with McClendon Center since February 2008, beginning her tenure as a Community Support Specialist, before quickly assuming a supervisory role as Team Leader. Her portfolio has included overseeing compliance for the Center since 2014.
Shean served as the Center's interim President, showcasing tremendous leadership of the organization during a six-month period of transition beginning in January 2021.
In the Chief of Staff role, Shean is responsible for strengthening existing services, leading key strategic initiatives, and supporting the Center's President and CEO in the development and day-to-day management of organizational operations.
Dyson received her Bachelor of Science degree in Psychology from Howard University. She is currently pursuing a Master of Social (MSW) from the University of Maryland, Baltimore.